RDWSR2: The Hughes Show Rolls On
It was always going to be a race carrying significant championship implications. The Heartland Park Topeka circuit in Kansas played host to one of the most memorable races in RDWSR history. Jimi Hughes and Davy Vandevenne locked horns in a desperate, 15 minute showdown to decide the championship leader with just two rounds remaining. Prior to the race, Jan Wikström made his intentions very clear in qualifying, setting a 1.43.4 to take pole position ahead of close rivals Jimi Hughes and Davy Vandevenne.
The stage was set. Hughes managed to jump Wikström into turn one and set about opening a gap immediately. Davy Vandevenne also showed fantastic race-pace from the beginning, and passed Wikström in the opening laps. One of the greatest battles in RDWSR history would play out between Hughes and Vandevenne in the final 15 minutes of the race. Vandevenne put enormous pressure on Hughes, and briefly took the lead on the penultimate lap after an almighty run on the straight allowed him to pull off an impossible move around the Hughes' outside. However, Hughes managed to regain the lead on the final lap and took the chequered flag after some hard racing in the final sector. It would be the second time Vandevenne has missed the top step of the podium by less than half a second this season; however he remains ideally placed to challenge Hughes for the title with two races remaining.
Miroslav Davidovic achieved his first podium position of the season, finishing just five seconds off Hughes following a fantastic performance after starting from fifth place on the grid. Round 1 winner Jan Wikstrom took 4th position after a promising qualifying session. Wikström was followed across the finish line by Anthony Levene in 5th, Craig Booth placing 6th and Guiseppe De Vita who took his second 7th placed finish of the season. Scott Webber, Christopher Hall-Nelson and Aldo Cecere were the biggest movers in the field, all managing to improve their position by three places throughout the race. Scott Webber has produced a fantastic video encapsulating the excitement of the third round at Heartland Park Topeka, which you can view below.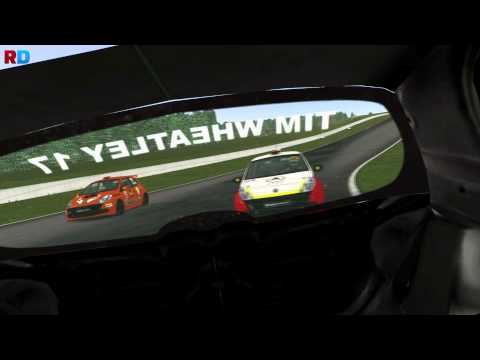 Jimi Hughes (Qualified 2nd, Finished 1st)
"Last night was a true classic! Got a great start and managed to lead into the first corner. Kept my calm head about me and managed to pull out a lead of around 3 seconds or just under to Davy in the first half of the race, whilst P2 was being disputed between Davy, Jan and Miroslav. Approaching traffic Davy ran deep into a corner, allowing me to regain the lead with half a lap to go. With 3 corners to go I locked up passing a backmarker, which gave Davy the run around the outside into the penultimate corner. However, having led the race for 44 minutes I wasn't going to make it easy. Davy turned in with his nose in front but I held my ground and came out in the lead after trading a little paint".
Guiseppe De Vita (Qualified 7th, Finished 7th)
"A great race with fast drivers and a very close battle. I managed 7th  position, and I'm happy with my lap times tonight. Great battle with Scott Webber and with Stefan too. Love this championship"!
Stefan Woudenberg (Qualified 10th, Finished 9th)
"I had a rough start which cost me too much time. Had great battle with Scott and Chris. We changed positions more than once. My speed was okay and after my mistakes I could recapture those two. Guiseppe was always in my mirror, but never came really close".
The next round of the RDWSR will take place at Palm Beach International Raceway in Florida. Hughes leads the championship, however Wikström and Vandevenne remain well in contention and will take an extremely attacking mentality into Round 4. League administrator Marco Bijl has been quoted as saying "There is a big chance Palm Beach will not be totally dry". Look to the skies Clio pilots, this will be a game changer.
Leave a Comment
You must be logged in to post a comment.