Where is Audi's Future in North America?
It is just about a month until Audi will run one of their prototypes for the final time in the American Le Mans Series.
It is certain that a single WEC race in the USA will not be enough for Audi, so they have to develop a new strategy. With the new rules for the North American sports car scene in 2014, top-level Le Mans prototypes will be discontinued. Audi just succeeded in the GT class of Grand-Am's crown jewel event, the 24 hours of Daytona but it will loose its attraction for Audi as marketing platform with GTE becoming the new prime class of Grand Touring racing in the USA.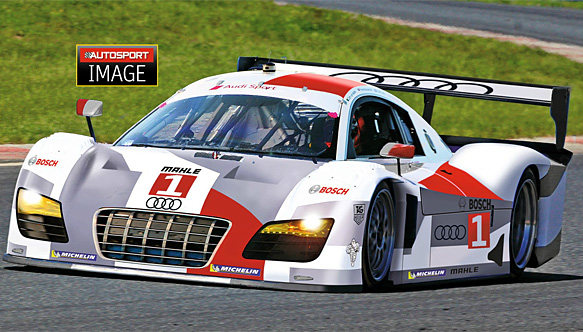 Image: Autosport
Two years ago, the ITR, the organising body of the DTM, announced a deal with NASCAR and Grand-Am to license DTM names and rules. A first season of the US-DTM was planned for 2013, starting their season during the Daytona Speedweeks in January and February. For 2012 a points or exhibition race of the German DTM was planned to be run in the USA. During the early stages of the 2012 season, when it slowly became certain neither would happen, BMW criticized the ITR for its unsuccessfull foreign affairs.
For the Bavarian company the US-perspective was a key reason to reenter DTM and discontinue WRC (Mini), WTCC and GTE efforts. The final agreement between JAF and ITR to run DTM-rules cars in Super GT's GT500 category decreased the tensions however. Still, BMW had to restart its American GTE effort to not loose presence on the North American market and also buildt a GTE version of the Z4. Audi finds itself in a similar situation.
For the future, the unification of the American Le Mans Series and the Rolex Sports Car Series delivers a platform. GTX would have the chance to show advanced technology, but its sporting relevance can be questioned, even if it is merged into the GT category. The Audi R8 Grand-Am won its class in dominant fashion, but the Grand-Am GT class will be the second division in the new series. Moreover not a single private team has yet entered a R8 for the next Rolex Sports Car Series race in Austin. The LMP2 lost its standing due to the merger. This narrows it down to GTE and DP. DPs give the potential of overall wins and GTEs are an option to challenge other companies on track. Like BMW, Audi could develop a GTE car from its R8 GT3 data.
"We need to look into that in detail, but we have to race in the top class and we have to race with relevant technology." – Wolfgang Ullrich, head of Audi Sport, speaking about the Daytona Prototypes. (Autosport.com)
Reffering to Motorsport-Total.com reports it is understood Audi evaluates a GTE involvement. Before such a plan gets the green light from Ingolstadt, further information, esepcially if the cars could be entered by customer teams for a couple of years, are needed. Audi would have to build a new engine as the one from the Grand-Am and GT3 versions does not fit into the GTE rules. For 2014 and 2015 the GTE rules are confirmed to be in use. However the new Porsche 991, Dodge Viper and BMW Z4 were homologated GTE although they are not completely fulfilling the rules. These waivers can be seen as indication for a change of Le Mans GT rules in a nearer future, which is not necessarily a reason against a move into it if the new US series has a clear line how to deal with the GTE class.
"We imagine that about 20 of our cars are run by private teams in the USA. That's our goal for 2014.
"Currently we have three fields of operation: Grand-Am, World Challenge and club sports.
"Our colleagues of Audi-of-America feel confident that motorsport is very important for our brand. One has to ask in our current situation, how this might look in future.
"We want to build something up for a long term in the USA. It is not about some shortliving highlights, but we want to anchor Audi in the North American motorsport." – Romolo Liebchen, head of Audi-Customer-Racing (Motorsport-Total.com)

"I do not think that racing for class victories should be our ultimate target, we are thinking about what we can do in US motorsport in the future and we are constantly talking with people from all the motorsport authorities in the US." – Wolfgang Ullrich
Leave a Comment
You must be logged in to post a comment.