2013 WRC Rally Sweden – Review
Sébastien Ogier and Julien Ingrassia today claimed the first victory for the new Volkswagen Polo R WRC when they won Rally Sweden, the second round of the FIA World Rally Championship. The duo dominated this winter rally and finished 41.8 seconds ahead of Citroën's reigning World Champions Sébastien Loeb and Daniel Elena. The fight for third went down to the final stage and Mads Østberg and Jonas Andersson claimed the position, just 6.1 seconds ahead of Jari-Matti Latvala and Miikka Anttila.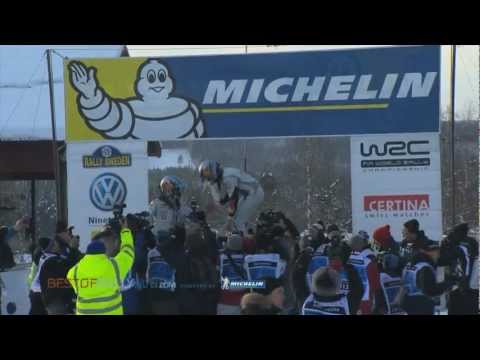 In the FIA World Rally Championship, Ogier now heads the leaderboard by three points over Loeb with Østberg moving into third position. In the Manufacturers' Championship, the Citroën Total Abu Dhabi World Rally Team continues to lead and is two points ahead of Volkswagen Motorsport.
Today's closing day of competition took the crews into Norway for five stages – two repeated – before returning to Sweden for the all-important Power Stage, where additional Championship points are awarded to the fastest three drivers through this single stage. Here Ogier rounded off a stunning performance by taking the maximum points ahead of Latvala and Ostberg.
Ogier continued to come under pressure from Loeb today but, such was his advantage, could afford to exercise some caution over the closing 94.29 competitive kilometres. The Frenchman won two of the stages, in comparison to Loeb's three, and claimed the first win for Volkswagen Motorsport in its debut year in the series. Ostberg and Latvala continued to fight throughout the day, Ostberg winning one of the stages in his homeland to claim a fine podium position in his Ford Fiesta RS WRC. After the disappointment of Monte-Carlo, Latvala will undoubtedly be pleased to have put points on the board for fourth position in only his second competitive outing in the Polo R WRC.
Thierry Neuville finished fifth, despite having gone off twice in stage 20, and Juho Hänninen claimed sixth after Evgeny Novikov rolled in the same stage. Martin Prokop equalled his Monte-Carlo result – seventh overall – and Henning Solberg eventually finished eighth after dropping significant time with an alternator problem early this morning. Yazeed Al Rajhi – competing in WRC 2 – rounded off the top 10 and won his category. Dani Sordo was the only leading retirement of the day, the Spaniard off the road and stuck in a snow bank on stage 20.
The third round of the FIA World Rally Championship takes the contenders to the Americas for Rally Guanajuato Mexico (7-10 March).
Rally Sweden – Final Results
1.   Sébastien Ogier/Julien Ingrassia
2.   Sébastien Loeb/Daniel Elena
3.   Mads Østberg/Jonas Andersson
4.   Jari-Matti Latvala/Miikka Anttila
5.   Thierry Neuville/Nicolas Gilsoul
6.   Juho Hänninen/Tomi Tuominen
7.   Martin Prokop/Michal Ernst
8.   Henning Solberg/Emil Axelsson
9.   Evgeny Novikov/Ilka Minor
10. Yazeed Al Rajhi/Michal Orr
Volkswagen Polo R WRC
Citroën DS3 WRC
Ford Fiesta RS WRC
Volkswagen Polo R WRC
Ford Fiesta RS WRC
Ford Fiesta RS WRC
Ford Fiesta RS WRC
Ford Fiesta RS WRC
Ford Fiesta RS WRC
Ford Fiesta RRC (WRC 2)
3 hr 11 min 41.9sec
3 hr 12 min 23.7sec
3 hr 13 min 06.4sec
3 hr 13 min 12.5sec
3 hr 16 min 48.3sec
3 hr 17 min 25.0sec
3 hr 23 min 07.3sec
3 hr 23 min 24.6sec
3 hr 24 min 46.6sec
3 hr 28 min 08.9sec
FIA World Rally Championship for Drivers (after 2 of 13 rounds)
Sébastien Ogier (FRA)
Sébastien Loeb (FRA)
Mads Østberg (NOR)
Dani Sordo (ESP)
Jari-Matti Latvala (FIN)
Mikko Hirvonen (FIN)
Martin Prokop (CZE)
Bryan Bouffier (FRA)
Thierry Neuville (BEL)
Juho Hanninen (FIN)
Sepp Weigand (DEU)
Henning Solberg (NOR)
Olivier Burri (CHE)
Evgeny Novikov (RUS)
Michal Kosciuszko (POL)
Yazeed Al Rajhi (SAU)
46 points
43 points
24 points
15 points
14 points
12 points
12 points
10 points
10 points
8 points
4 points
4 points
2 points
2 points
1 point
1 point
FIA World Rally Championship for Manufacturers (after 2 of 13 rounds)
Citroën Total Abu Dhabi World Rally Team
Volkswagen Motorsport
Qatar M-Sport World Rally Team
Abu Dhabi Citroën Total World Rally Team
Lotos WRC Team
Qatar World Rally Team
Jipocar Czech National Team
57 points
55 points
31 points
15 points
12 points
10 points
8 points
Leave a Comment
You must be logged in to post a comment.