NASCAR, Europe and the World
If someone talks about NASCAR, one usually talks about the Sprint Cup Series. All Sprint Cup Series races are sited in the United States. The Nationwide Series occasionally went abroad to Montreal or Mexico City and the Truck Series will head north of the border for a race at Mosport in 2013.
The three national series will have a total of 91 point scoring races this year, 90 of them in the USA. In the NASCAR pyramid below these national series and under the K&N Pro Series, there are three active International Series run by NASCAR: Mexico, Canada and Europe. The Mexican NASCAR Toyota Series was founded in 2004. In 2006 NASCAR purchased the Canadian CASCAR and started the NASCAR Canadian Tire Series in 2007. Euro Racecar NASCAR Touring Series just completed its first season under NASCAR sanction, after the FIA approved series was sponsored by NASCAR in 2011 already. Moreover an affiliated Australian series folded in 2001, which saw every so often guest appearances by drivers of NASCAR's national series. The champions of these active series were invited to the championship ceremonies in Charlotte in December and usually also to the Toyota All-Star Showdown to compete in a class of their choice in the past.
Photo: automobilsport
Stefan Oberndorfer, a former DTM driver, reported in the Sprint Cup coverage of ServusTV that he tried get into the NASCAR system. Beyond the big pond, the reactions he earned at the end of the 80s/beginning of the 90s were laugher. In 2000 he competed in some ARCA events and opened his racing school. Today, his racing school mainly features NASCAR courses with original cars at various European venues. But times change. George Silbermann, NASCAR vice president regional and touring, now encourages European talents: "Entering Euro Racecar Series would definately be a good opportunity." This year's champion will get 50.000 US$ to fund a K&N Pro Series ride.
In the last 3 years only 8 international drivers scored points in the NASCAR Sprint Cup Series: Marcos Ambrose (Australia), Patrick Carpentier, Andrew Ranger, Jaques Villeneuve (all Canada), Juan Pablo Montoya (Columbia), Jan Magnussen (Denmark), "Mad Max" Papis (Italy) and Mattias Ekström (Sweden). Montoya and Ambrose are the ones on this list with full-time seats with Nelson Piquet Jr. (Nationwide), Miguel Paludo (Trucks)(both Brazilian) it makes four full-timers.
Between 1996 and 1998 NASCAR held three exhibition races in Japan, in Suzuka and Motegi. Motorsport-Total.com released an article which reports that Daytona plays with the idea of having exhibition races again. George Silbermann on this topic:
"It is too early to say anything precise. Currently there are many options in many countries of the world and we follow all of them."
"[There] must be a suitable context. This means it needs an event with Euro Racecar Series and a good promotor."
"In Europe there are little options for a big oval race with Lausitzring in Germany or Rockingham in Great Britain."
"This year we built a little temporary oval in Tours with walls and fences. We were unsure how the European fans would react to it, but they were thrilled. Suddenly they were able to watch real side-by-side-racing."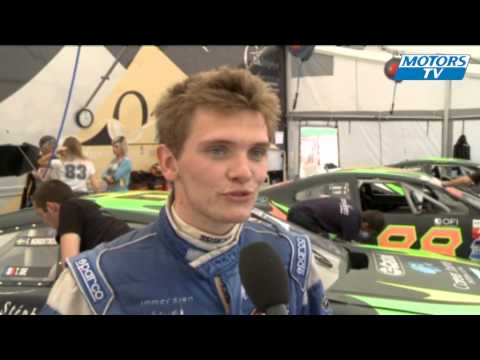 However the Japanese exhibitions show, ovals are no must for such an event. The Euro Racecar calender features prestigious tracks Dijon-Prenois, Le Mans or Monza for example, NASCAR Canadian Tyre Series and NASCAR Nationwide Series were at the Circuit Gilles-Villeneuve, NASCAR Camping World Truck Series will go to the Canadian Tire Motorsport Park, NASCAR Toyota Series uses the Grand Prix version of the Autódromo Hermanos Rodríguez and even the NASCAR Sprint Cup Series races at Watkins Glen and Sonoma road courses. Another thinkable option not mentioned in the article, other than a car park, would be the usage of European arenas for temporary short track ovals such as the Munich Olympic stadium (paved and hosted Stockcar races and two DTM events), Stade de France (hosted Trophée Andros Superfinals and Race of Champions) or Wembley (hosted Race of Champions).
But as proven by the last plans of an American racing series to come to Europe, one has to wait until the ink dried under the contract of such deal. Indy Car was announced to come to Italy for September 2013 by Dr. Paola Mannetti reffering to Autosport reports. Indy Car did not confirm this and with Randy Bernard's removal as CEO the European race vanished in the aftermath.
NOTE: The interview is translated from the German release.
Leave a Comment
You must be logged in to post a comment.