FSR WC: Morand makes hattrick at Monza
Qualifying produced several suprises starting with Jeffrey Rietveld, who achieved his first pole position, just beating out Gergo Báldi for the top spot. Jernej Simoncic set the third fastest time for Ash Racing, and Ivar Kalamees achieved 4th position, in his maiden WC Grand Prix. Championship contenders Morgan Morand and Bono Huis could only manage 5th and 6th respectively, and making what will probably be a one-off appearance, Mikko Puumalainen would start from 7th place. Twister Racing's Peter Brljak qualified in 8th position, ahead of Philipp Puschke in 9th, and John-Eric Saxén rounded out the top ten.
Jim Parisis just missed out on Q2 to start in 11th, and temporarily replacing Varga, Martin Gosbee set the 12th fastest time for NetRex. Yannick Lapchin had a difficult session only managing 13th, and driving in his first race of the season David Dominguez would start from 14th position.
To the race start and it was Jernej Simoncic who had got the best launch, getting alongside Gergo Báldi then having half a look up Rietveld's inside. Parisis got his braking all wrong and took to the grass while Kalamees also broke a little too late, tapping the side of Simoncic. Philipp Puschke had made a great start passing Brljak down the straight and then taking Puumalainen exiting the chicane. Down into the second chicane and Morgan Morand quickly dispatched Kalamees, making a pass for 4th place, and at the back of the field Michael Francesconi and Blair Disley came together ending with Francesconi's car in the barriers. Eros Masciulli was swamped into Lesmo, losing out to both Marcel Van der Linden and Jim Parisis, and down into the Parabolica, Martin Gosbee put a move on John-Eric Saxén to take 10th place. Bono Huis then out braked Ivar Kalamees to take over 5th position, while further behind Masciulli continued to struggle, losing positions on either side down the main straight to Aalberts and De Wit.
Lap 3 and as Jeffrey Rietveld maintained the lead, Gergo Báldi challenged Simoncic into the chicane successfully retaking his 2nd place. Morand soon followed through as well, getting around Simoncic's outside before the second chicane, to move into 3rd. Morand immediately attacked Báldi and on the following lap the Frenchman made an easy pass on the inside of the Hungarian. However the other NetRex car was continuing to move up the order with Martin Gosbee making a pass on Brljak for 9th, and in the battle for 5th place, Philipp Puschke and Ivar Kalamees were frantically fighting it out, and eventually the two made moderate contact, causing Puumalainen to nearly lock his brakes losing a position to Gosbee. Puumalainen would then fall into the hands of Peter Brljak, and after a brief fight, the Finn lost out into the opening chicane. Jim Parisis then retired having suffered too much damage on the opening lap, and in 14th Marcel van der Linden lost control out of the Ascari hitting the wall hard and dropping down behind David Dominguez and Patrick de Wit, with De Wit soon passing Dominguez on the following lap to take 13th.
In the race lead Jeffrey Rietveld had established a solid 2.5 second gap over Morand. Bono Huis eventually managed to get around Simoncic with a pass into the opening chicane, and 2 laps later Huis caught up to Báldi, with the NetRex driver desperately trying to maintain his position. However he could not hold off the defending Champion, with Huis making the pass into the Ascari. John-Eric Saxén seemed to be struggling for pace, losing two positions in one lap, to both Lapchin and then De Wit. Patrick de Wit was continuing an impressive charge, passing Lapchin down the main straight, to move up into 11th.
In the battle for 5th, Philipp Puschke and Ivar Kalamees were still fighting hard with some very close racing. Eventually Kalamees pitted, being the first driver to make a scheduled stop on what was clearly a 3 stop strategy. The race leaders began to pit on the following lap with both Rietveld and Morand emerging in the midst of traffic. Rietveld crucially cleared Saxén after just 2 corners, while Morand was somewhat held up by those who were only 2 stopping. Meanwhile a bad misunderstanding at Ash Racing had both of thier cars enter the pits on the same lap, with Puschke being forced to wait, losing several seconds in the process.
After all the drivers had completed their first stops, Rietveld had maintained his 2.5 second lead, though in the second stint Morand was slowly but surely closing in on the Dutchman. Huis was in 3rd, but he seemed unable to close in on the leading pair. Gergo Báldi remained in 4th, ahead of Jernej Simoncic in 5th, and in the battle for 6th place, Martin Gosbee had managed to leapfrog Ivar Kalamees, however the GT Omega driver soon retook the position, only to lose it again, after Kalamees outbroke himself into the chicane. Peter Brjlak was in 8th place, though he had the 2-stopping Mikko Puumalainen close behind him, seemingly on a better strategy. However a small mistake out of the second Lesmo was jumped on by Philipp Puschke, passing the Finn for 9th place.
By lap 26, Morgan Morand had now caught right up to Jeffrey Rietveld's rear wing, with Rietveld taking the defensive line through the Parabolica. The two then entered pitlane together, with less than a car's lenght between them. Both drivers had identical stops, and as they emerged, Morand came dangerously close to touching the pit exit line. With Rietveld very much on the back foot, Morand enjoyed a healthy slipstream down into the second chicane, forcing Rietveld to take the defensive line. Rietveld locked up into the chicane and Morand quickly switched to the right side of the track. With the two side by side, Morand completed the move with a very agressive pass through the first Lesmo, taking over the race lead.
After the 3 stoppers had completed their 2nd stops, Puumalainen was looking strong, now up into 4th place. Also on two stop strategies, Patrick de Wit was on track for a good points finish, now into 6th position, and Yannick Lapchin was now inside the the top ten in 9th place. However with Martin Gosbee just behind in a lighter car, the pair ended up fighting it out, with Gosbee temporarily getting in front, before losing the position again down the main straight. Sadly things came undone later on in the lap, when Gosbee miscued his braking, and two made contact, spinning Lapchin's car around as Gosbee took to the grass. Lapchin stalled the engine, ending his race, with Martin Gosbee later apologizing for the incident after the Grand Prix.
As Morand began to drive away with the lead, 3rd placed Bono Huis was slowly catching up to Rietveld. Rietveld pitted first, with a decent 2 second lead over Huis. However, with Huis driving a much better inlap and making a faster stop, the gap had disappeared completely by the time Huis exited pitlane. With Rietveld very much on the defensive, the defending Champion showed his class, moving to Rietveld's inside in the run down to the second chicane and making the pass look easy for 2nd place.
Gergo Báldi was now in a lonely 4th position, ahead of Mikko Puumalainen in 5th, whose 2 stop strategy had worked nicely. Jernej Simoncic was in 6th, with Patrick de Wit now up into 7th. Gosbee was clear in 8th position, but there was a congested battle going on for 9th place. Philipp Puschke and Peter Brljak had began passing each other on multiple occasions, with both drivers seemingly equal on pace, and unable to escape far enough ahead to avoid giving the other driver a slipstream. After passing each other several times, Peter Duivelaar had now caught up to them, and with 5 laps remaining, Duivelaar managed to pass Brljak into the Parabolica, dropping the Twister Racing car out of the points. However, Brljak wouldn't give up, and the pair also switched position several times, with neither driver willing to yield. As the two fought it out, Puschke escaped ahead, while Duivelaar continued to attack Brljak in the closing stages of the race.
Meanwhile, after a great Grand Prix, Patrick de Wit's brakes were starting to wear thin, and the Mak-Corp driver was forced to massively ease off his pace, dropping him down the order. Duivelaar had just managed to get back out in front of Brljak, when they caught up to the struggling De Wit. Unfortunately Brljak was held up badly through the Ascari, losing contact with Duivelaar, and as they came to the Parabolica De Wit's brakes gave out, he clipped Brljak and slid helplessly into the tire barriers, just 2 laps shy of the finish line.
Coming from 5th on the grid, GhostSpeed's Morgan Morand took his 3rd win in a row, driving another solid race, and putting Bono Huis under a little bit more pressure in the fight for the Championship. Huis crossed the line just 2 seconds behind his main rival, achieving his 8th podium of the season, minimizing the damage to his Championship campaign. And despite a brake failure on the final lap, Jeffrey Rietveld took yet another podium in 3rd place, the GT Omega Racing driver continuing his incredible form.
Gergo Báldi finished a rather uneventful race in a solid 4th position, Mikko Puumalainen achieved 5th place in his first race in over 4 months, and Jernej Simoncic demonstrated that he can mix it with the best, crossing the line in 6th postion. Martin Gosbee did a great job as NetRex's reserve driver to take 7th place, Philipp Puschke was able to take 8th position despite his problems during the first pitstop, Peter Duivelaar had to start from the back row of the grid but kept his nose clean, steering clear of all incidents to finish in 9th, and Peter Brljak finished a highly eventful race, picking up the final point.
Taking a look at the Drivers Championship standings, Bono Huis is now just 22 points clear of Morgan Morand, less than the value of a race win. Rasmus Tali was absent today, but none the less holds onto 3rd. Jeffrey Rietveld has rocketed up the points table, and is now incredibly up into 4th position, while Gergo Báldi's solid result has pushed him clear into 5th place. Fredrik Nilsson's continued absence has dropped the Sweede into 6th, and none of the other drivers in the top ten picked up any points today.
Precision Motorsports continue to move further into the lead and are now fairly close to securing the Constructors Championship. GT Omega Racing's continued solid form has led them to take over 2nd place in the standings, and Morand's 3rd win on the trot has advanced GhostSpeed up into equal 3rd position, with ATR failing to score any points today. Twister Racing reamain in 5th, and once again NetRex has swapped positions with Mak-Corp, with NetRex now with the upperhand in 6th position. And Ash Racing's strong performance today has advanced them up into 8th place.
The next race will be the German Grand Prix and you can watch that race live as it happens at Simrace TV on the 16th of September at 4pm GMT. And don't forget to check out Formula SimRacing on both Facebook and on Twitter, as well as the Formula SimRacing Fantasy League.
Highlights video by Simon Adebisi: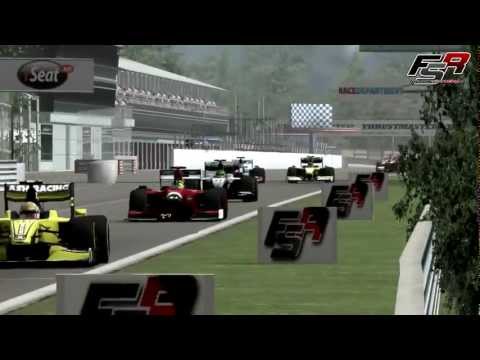 Leave a Comment
You must be logged in to post a comment.