Almost a year ago F1 2011 has been unleashed upon the sim racing community and people were both furious because it wasn't a proper simulation like rFactor and excited because it was still a great game to play and exactly what many people wanted. Before starting to read this review (which is based on the official review version provided by CodeMasters, PC version) everyone should remember that this isn't a hardcore sim racing game – it's not completely arcade either, tho.
After all, F1 2011 The Game was a massive improvement compared to F1 2010 The Game and CodeMasters tried hard, once again, to cater all kinds of players this year. Of course, nothing is ever without fault but one can definitely feel how much work and heart Steve Hood, Paul Jeal and their team put into the 2012 edition. Also, 2012 marks the first year a demo of Formula 1 The Game has been made available.
The first and most obvious change is the main menu, which is way more flashy than before. The McLaren above is pretty much the perfect car to show it off but I've also seen both the Ferrari and Red Bull  – so it's either random or depends on which car you were using the last time you played. Apart from it being flashy it's also quicker and more intuitive than in the previous instalment.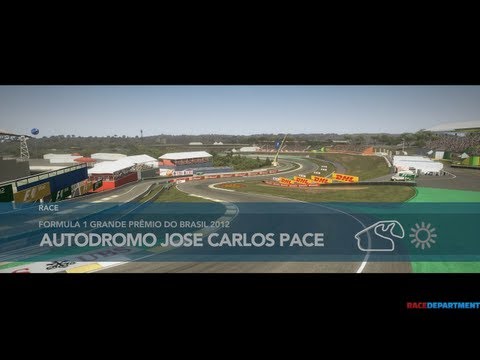 (Expert difficulty, default setup)
The amount of information available – both for tracks and drivers – is pretty much the same as in 2011 but you can also see an example lap (in dry conditions) around each track. This might come in handy for people starting with 2012 but the general comments are often down to a specific setup – for example, it won't always work out if you start breaking at the 100m board just before turn 1 in Malaysia. It's definitely a great idea and will help people to prepare themselves if they've never been out on a particular track.
Once you've picked a team & track and arrive in the pits it really feels like 2011 – which is a good thing because people have gotten used to it and the pit menus worked pretty well. One thing that was really annoying tho was that the same button was bound to 2 functions, as you can see in the shot above as well. Obviously it could only trigger one function and that was, in the pits, sadly the "Show Standings" function.
So every time I opened the menu pictured below I was kinda stuck in it, had to get up and hit the ESC key on my keyboard. Most people have their keyboards in reach but I don't and despite this being not a biggie it was still annoying. However, this is surely something CodeMasters is going to fix pretty soon and it's not a biggie for most people. This will hopefully be history in the release version anyway.
Going to the track is easy as always and driving out didn't change, you can still see the mechanics get your car off the jacks and drive out as usual. One thing that everyone will (or should) immediately notice is that the sound improved a lot. The engines sound a lot more like in real-life this year and, in addition, the way you shift has changed as well. You can't downshift like a maniac anymore, which is a bit sad because this is indeed possible in real-life (click the link to see Robert Kubica in Spa). If you'd do what Robert Kubica demonstrated in said video, your car will send smoke signals to the drivers behind you and ultimately stop working rather quickly.
Apart from that it doesn't feel that different from 2011. It's a lot harder to keep up with the AI but that's surely also down to not having custom setups readily available. Most of the 2011 setups will not work in 2012 – I tried. Also, the AI owned me for trying. All setup options are still the same and, FINALLY, proper Parc fermé rules have been added. This means you can't change your setup after you've driven out in qualifying and before the race. Choosing wisely is really important this year – unless you want to cheat and simply restart the session.
It's also possible to change the fuel load before the race (distance of 25% or greater) and decide to either have a bigger fuel reserve and be more flexible or carrying less fuel but a lighter car to begin with. Once on the track almost nothing has changed with the exception that you'll be able to change break balance on the fly – front, neutral, rear. This is pretty similar to how changing the wing settings back in F1 2010 The Game worked. Getting feedback from the car is pretty difficult again, the tracks feel really flat and it's hardly possible to feel bumps even with FFB set to 100%. It's not bad but there's certainly better FFB available in other games.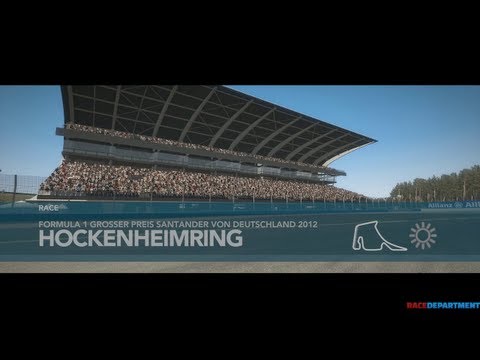 (Expert difficulty, default setup)
A refreshing and nice addition is the Young Driver Test. Following a series of tests your performance is being graded and the better you perform the more teams want to give you a contract. After all it's pretty straight forward and you can restart tests if you want to. Whilst it's not groundbreaking it's still more fun and entertaining than simply picking a team like you did in F1 2010 / F1 2011.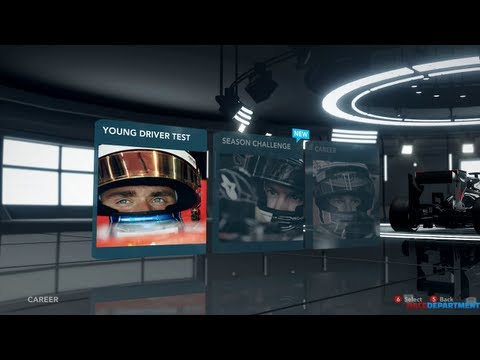 A rather unpopular change is the removal of playing a whole season in Grand Prix mode – you're being forced to play Career mode in order to play through a whole season. To make up for this CodeMasters added an all new Champions Mode, containing scenarios that require you to defend your position, catch your team mate etc. It's pretty fun and challenging but you need to cope with the default setups in all of them since you start in the middle of the race, mostly only a few laps before the chequered flag. There's also a new Season Challenge mode which is basically the same as career mode but with only 6-10 races.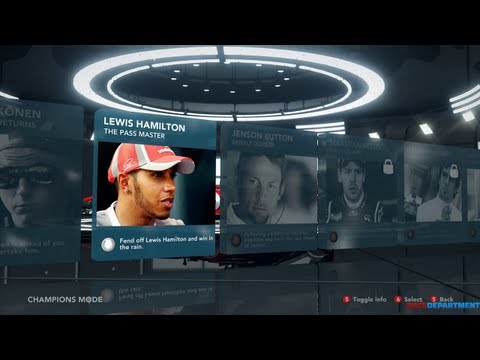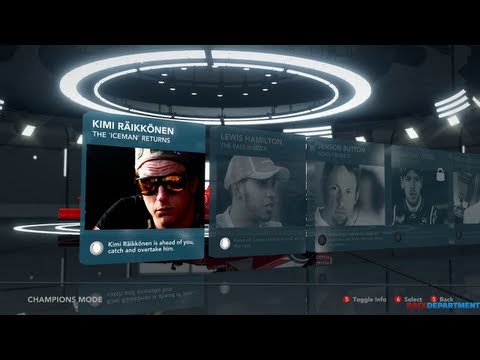 (Champions Mode, Medium difficulty)

The AI finally learned how to drive as well and it's way easier to avoid them now, them slowing down doesn't necessarily mean they'll crash into you. Also, they won't hesitate to block you or swerve over the track (see what Vettel did in the first video?) if it's necessary to keep their position. There's not much to say about the physics and how they work: it's almost the same as in 2012 but one can definitely feel that it's more immersive. It's still not on the rFactor 2 or iRacing level but that's most certainly not was CodeMasters was aiming for.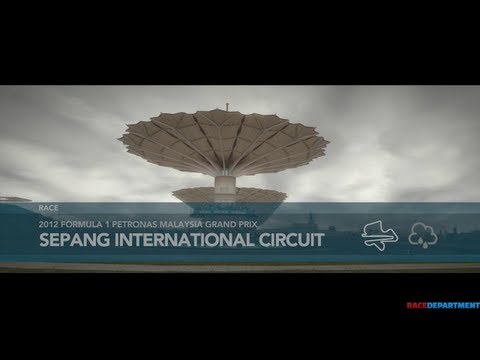 (Professional difficulty, default wet setup)
Driving those cars is fun, not too hard and obviously pretty immersive. Although the physics look like 2011 it's a way better feeling and "being in the car" is something that will give you the feeling of driving a real Formula 1 car. Also, in 2012 you can really notice the KERS boost. Whilst it was more or less only a sound effect in last years' game it feels like a rocket boost now.
Multiplayer wasn't available yet since I played a review version of the game and RaceNet was thus still offline. According to previous announcements F1 2012 The Game is still using P2P connections when playing online, exactly like it's predecessors. There's no dedicated server available, a pretty disappointing nuisance factor in the middle of all these wonderful features and improvements that is F1 2012 The Game.
Luckily there's one more good thing we can talk about: this years' game has immensely improved when it comes to it's performance on PC. I've played the game on my pretty extreme system (i7 3770, GTX680, 16GB RAM, SSD) and never had any performance issues, obviously. However, the benchmark result was pretty surprising: 106 FPS on average (2012) vs. 96 FPS on average (2011) on Ultra settings.
Seeing that the graphics in 2012 are definitely better that's an achievement CodeMasters can be proud of. The only thing not being great when it comes to the graphics is the lack of visual quality in Singapore. The reflections and colors are looking dull and inanimate. This is something that might get fixed in the release version.
The conclusion couldn't be more simple: F1 2012 The Game is worth it's money and definitely a massive improvement compared to the 2010 & 2011 edition. As with every game in this series it's pretty obvious that it's not specifically aimed at the hardcore sim racing community and buying this game thinking it will be like rFactor2 with an official Formula 1 license will ultimately lead to a disappointing experience.
THE GOOD
Graphics
AI improvements
Young Drivers Test
Champions Mode
THE BAD
Buttons bound twice
Lighting issues in Singapore
SymProjects displays not working yet (which is down to an update of SimDash!)
Shifting appears to be a bit off
THE UGLY
Save games are still being corrupted from time to time
Invisible walls are still there
The bottom line is that if you like games that won't require you to spin around for hours before being able to put a clean lap in, this is definitely a fun and lasting game for you!
Update 20/09/2012
The following issues / changes are still active in the release version:
Free Practice 2 & 3 have been removed. Players are limited to a single, 60 minute, practice session.
Tyre wear doesn't scale, tyres will always last as if you'd run a 100% race.
Buttons are bound twice, preventing you from using in-game functions. I.e. unable to open driver statistics because the same button is bound to going back to the last menu.
Some players can't use a resolution greater than 800×600.
For all of these and more screenshots visit our dedicated thread right here! For more on F1 2012 The Game in general visit our popular F1 2012 The Game forums with the latest discussions and also the place for modding resources, custom club and league races, setups and much more.
Only registered users can comment.