Circuits of the World: Circuito de Jerez
Last week, in the first entry of Circuits of the World, we visited the Hermanos Rodríguez circuit in México. Latin America is filled with great racing tracks. But this week, we cross the Atlantic and head back to Europe…
Located in Southern Spain, the Circuito de Jerez was opened in 1985. The facility would become the first in Spain to host an international motorcycle event in the following year (The F1 1986 Spanish Grand Prix). Unluckily, for many racing fans, the circuit wasn't around in the calendar for very long. It was removed of the Formula 1 calendar in 1997 after an incident during the trophy presentation ceremony. But during its life in the calendar, it has left us, Formula 1 fans, with memorable moments, like this brilliant double overtake by Alain Prost in 1987:
And not so memorable, as this collision between Villeneuve and Schumacher 10 years later…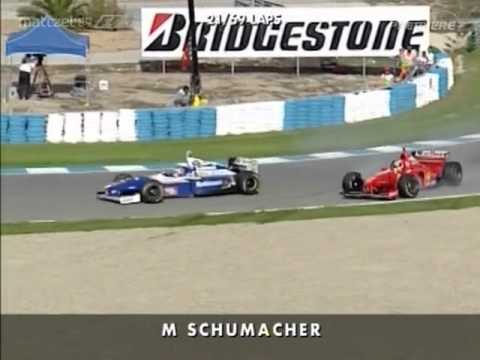 4.428 km of… everything, really
The Circuito de Jerez has a bit of everything: high speed straights, fast corners, slow corners, a chicane… For that reason, the driver needs to be careful driving around the whole track in order to achieve a decent lap time. It's not uncommon to hear Spanish fans wondering why the circuit isn't used for actual racing, considering that neither Barcelona nor the Valencia Street Circuit are known for their many overtaking opportunities and exciting races…
Although Formula 1 doesn't race here anymore. The venue has remained popular over the years, being one of the places visited by the MotoGP championship as well as hosting various Spanish racing events as well as hosting one of the Historic Formula One events.
The track in current Formula 1
Every year, Formula 1 teams come to Jerez to unveil their new contenders for the next Formula 1 Championship on the days prior to the beginning of the winter testing (which happened entirely in Spain in 2012, in the circuits of Jerez and Barcelona). Despite its popularity, it's very unlikely the track may come back to the Formula 1 calendar in the near future, though.
The Track in Sim Racing
Racing fans around the world can enjoy many fanmade renditions of the track in popular sims in the racing community (as with Hermanos Rodriguez, owners of rFactor can easily get it for their client if so they wish).
If you'd like to see a particular circuit highlighted here in the future, or information you'd like to know about the tracks, please leave a comment mentioning it. I'll do my best to get it in!
Leave a Comment
You must be logged in to post a comment.