RaceRoom GameSeat RR1000 Review
I am cheap. Yeah I said it, I'm not trying to spend an exorbitant amount of money to have the latest. I want functionality on the cheap. I want rock solid performance for rock bottom price. Hence my homemade rig for about 20 bucks in parts and an old weight bench. Well after a year or so of that the wife just about had it and an "offer" to get a proper rig was made by her. Hence the Raceroom Home Simulator Gameseat RR 1000.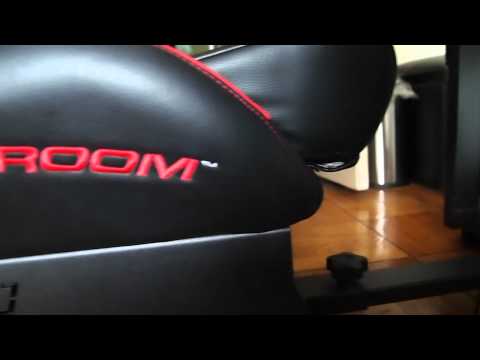 Men At Work
The rig comes in around 60 pounds in one efficiently packed box. Everything comes well packed and individually wrapped in their special "Raceroom" labeled plastic bags. So get ready for a lot of bags all over the place. The only tool you'll "need" is a pair of vise grips or pliers but even those aren't necessary.  That's only if you want to get a little extra tightness on certain parts of the assembly but all the tools required are in the box. However you may want to have a Dremel on hand just in case, more on that later. Construction went very smooth as all parts are well thought out and engineered. There are quite a few nuts and bolts to deal with but anyone can put this together. However not all was peachy in assembly land as I had a couple of issues that need to be sorted.
First was the attachment of the pedal box to the center frame (wheel stand). It's connected with two nuts on two bolts welded to the frame. However, in my case the holes in the pedal box were about a quarter of an inch too far apart (or maybe the bolts on the frame were not welded apart enough for the job) making it impossible to mount. I tried everything to get it on there but it was just enough apart to make it impossible to mount. My solution was to pull out the old trusty Dremel and widen the holes just enough to make the bolts fit. I kinda wished that holes were way out of alignment that way I could have just drilled a hole but they were just enough off to take the drilling option off the table and having to work with the Dremel.
CAUTION: TAKE EXTREME CARE WHEN WORKING WITH A DREMEL. Those discs turn at high revolutions and they can break off pretty easily and the pieces will fly , fast,  so PLEASE wear eye protection when using one on ANYTHING you working on.
Once that was sorted assembly was going smooth and easy until I hit another snag. The unit comes with round threaded feet that can be used to level the Gameseat RR 1000 for uneven surfaces. Nice touch on their part, however mine came with one foot that had it's thread reversed. While I was able to attach the foot by flipping it over, it made that foot useless for leveling purposes. Now this would normally seem like nothing and won't stop the show by any means but it's innocuous, it CAN turn out to be your worse nightmare over time. As with most things that are going to bare a load if it's not leveled right over time it can stress over parts weakening them and making parts of the unit not as stable as intended. But not to worry, custom support is on the ball. I called and they have assured me that a replacement foot is on the way. They understand that a good deal of money is being spent and they want to make sure your right. For the meanwhile I just put the foot in use where it should have the least impact on the rig.
Other than these two issues assembly went very smooth and parts fit as they should and as expected.
Attaching the seat to the two side frames will also take a little wrestling but a little elbow grease and you'll be ok. A note about that, it'll help if you hand tighten first with the seat before you use the Allen wrenches to really tighten it down. This will make assembly much easier.
Paying The Price For The "Good Life"
Fanatec users will have some additional work to do however as the rig was mostly designed for use with the Logitech G27. The wheel deck won't accommodate a Fanatec Wheel so a plate is necessary. They sell the plate but you will have to drill the holes for it to hard mount it. And to have it perfectly centered you'll have to drill through standard plate as well. Or at least I did. Also I have the Clubsport pedals which are wider than the pedal box. However they will sit on the pedal box so that is really not a concern and can also be hard mounted by drilling. So G27 users are good right out the box but Fanatec users are going to need a drill handy but hey it's a Fanatec, ain't it worth the trouble?
Check Me Out
When it comes to the looks department it's a nice looking piece of equipment. The black with red trim and embroidered "RACEROOM" seat looks the part of a serious racer. The design looks strong and clean and not an eyesore. The cutout logo on the side of the pedal box and seat stand proves a nice design addition giving the RR 1000 a little more flair.
Get To Work
What can one say about this rig other than it gets the job done and does it well, very well. Almost everything about the rig is designed well and clearly has been thought out in detail. Sitting in the seat gives you the upmost confidence. It feels rock solid and at no point you feel you're about to crash to the ground because of weak design or lack of strength. The seating position is well made. The steering post is rock solid. No slop, no play. Your wheel stays exactly where it's supposed to stay at all times. I'm heavy with the wheel and the force feedback. The Gameseat RR 1000 isn't' going to give. You'll break your wheel before you break it. I have the utmost confidence in any move I make in this rig because it's solid and gives you the feel of dependability. This is a VERY important point for me and was the number one criteria when searching for a rig (next to price of course, I did say I'm cheap).
The performance is there and there's no doubt about it. The seating section has a support frame that is just as beefy as the framing you see in the pictures that hold the steering bracket. Most of the weight of the frame come from these two pieces. How strong and weighty are they? Put it like this, if you have an intruder in your home ,and you can take your rig apart in time, hit them over the head with one of these two parts and then call mortuary, police and hospital in that order. Mortuary for him because his days are over, police because well you gotta and hospital in case you might have twisted your shoulder or something. I don't know exactly what kind of metal their made of but it I had to guess it would be some kind of steel but it feels more like iron to tell you the truth. Very strong stuff with strong welds. This is what helps keep the steering on point and the wheel in place. Make no mistake though, the steering bracket that sits on the frame is made of the same stuff just a little smaller and is just as strong.
This Is The Only Heavy Metal I Like
The weakest point on the rig would be the pedal box. Here's one of the few "flaws" with the rig. And believe me I'm getting into nitpicking territory here. For ABSOLUTE "no give at all stability" the pedal box could have used a plate or bar on the bottom connecting it making it a complete box. When pressing hard , and I mean "OMG I'M ABOUT TO CRASH AND DIE" hard there is some give in the box. The two sides (where the logo is cutout in the metal) will spread apart some from the pressure. For some reason this seemed to be an idea they had already but decided to cancel as the instructions that came with my rig show attaching a plate at the bottom of the pedal frame however mine came with no such plate. I understand trying to keep the cost down but I think it would have served them well to at least include a bar that can be attached to the two feet at the bottom for added strength and getting rid of any play whatsoever. But rest assured you won't notice this play at all. And believe me when I say I've seen more expensive rigs have way more play in their pedal boxes.
I think it's important to point out here I'm not being critical with the rig against other racing seats. I'm comparing the stability against a real car. I've seen plenty of rigs online with major weak points in almost all of them. I've seen them have one feature that's great and something else that just stinks but this thing does it all very well to great. I've read plenty of reviews and seen all the vids where the reviewers claim how solid the frame is only to see a video of it in action and the wheel deck is all over the place, this one gets it done.
Have A Seat
Ok now about the seat itself. It looks the part, slick as they come. It serves it's purpose, keeping your butt off the ground but it's more show than function. It's comfortable enough. No "numb-butt" after time in the rig. You won't feel uncomfortable at all. The thing is though you don't get the feeling of being "in" the seat as much as you're "on" the seat. The shoulder and leg supports are really just for show than anything else. Now I have to admit I'm a big dude with pretty wide shoulders and thighs. And I could probably stand to eat a salad in place of a "real meal" maybe more than once a week but even then you just get the idea that the seat is pretty basic. They sell another model with an upgraded seat but to be honest even though I think that would give you a little more "in" the seat feeling I don't think it'll do a whole lot more. You're probably better served buying a real race seat and attach it to the rig (probably with a plate as a go-between adapter as the holes probably won't line up by default with a real seat) down the line if you're so inclined. Some rigs have better seats, some don't. But again it's not an uncomfortable seat by any means. I've been putting hours in the seat and get up feeling just as fresh ( aside from race fatigue ) as I when I first sat down. I will say though as the seat is breaking in I am getting a little more of the "in" the seat feel. I'll keep you posted on how it feels over time with updates. Maybe it needs a couple of sittings before it breaks in. The shoulder supports kinda hug my shoulder blades a little more than day one. Other than that though it sure looks hot sitting there. Gives the rig a nice race look when looking at it. It gets nothing but compliments.
Add It On
I ordered a couple of add ons with the rig. I added the support brackets which really turned out the be a waste of dough. They did add a little more stability to the pedal box and a little something to the wheel stand I have to be honest it really isn't worth it unless you're mounting a monitor to the rig. That's their real function so save your dough. If you want to get them for peace of mind like I did then by all means go for it but I think I'd rather have the piece of cash back. Shifter mount. I've attached it but haven't used it as the one I got is for the G27 not the Fanatec shifter. What I can tell you is I had little faith in that mount. Looked very flimsy in the photos, I couldn't be more wrong. That thing attaches SOLID. I grab the top of it and move it around and the thing doesn't budge. Again it's made of that same "iron" like material that I mentioned before. I'm thinking of making a custom plate so I have can have both seq and H-pattern shifters on it at the same time and I believe the G27 mount will probably accommodate that better than their specialized Fanatec shifter. But that's just for me. All parts come in their Raceroom retail boxes and are well packed with required hardware.
The Price Is Right
Now we get to the nitty gritty. For the price I have to say this is the best deal you can get for a solid, very solid rig. I honestly feel I got the deal of the century with this one. Keep in mind that here in the U.S. the shipping for the rig is FREE. As I was shopping around for my racing seat I just couldn't nail down what I wanted. I've been looking for quite a while and every time I came close to pulling the trigger on one something would spoil the deal. Price, stability, shipping whatever. So the key here is the price of the rig has to include shipping and on some of these rigs the shipping can be as high as over 200 dollars. This can't be ignored. This turns a 500 dollar rig into a 700 dollar rig. The best thing that happened to me was playing Race 07 for the first time about a month or so ago. It was in the game that I saw the ad , everywhere, for this rig. When I went to investigate the information just got better. Rock solid rig, cheap price and FREE shipping. You can't beat this no matter how hard you try. I got the rig for $399 base price but since this review the base price has been reduced to $369 (ahem, credit Raceroom? the people are watching) still with free shipping. (However all is not good news as it seems the price of the accessories went up). I have to say even if shipping wasn't free this would still be a good deal. The rig is on point, just no way to fault it. I have been having a great time with this rig and it's been serving me well. I really don't think it could get any better. If a racing seat manufacturer thinks they can beat this experience with their rig at the same price point then I challenge them to send me one. Man I'll even give them a two hundred dollar buffer and I still don't think anything out there is close enough to price/performance ratio. Infact , yes, I lay that challenge out there. Remember you're not giving up performance at all just because the price is lower. As cheap as I am I still won't accept junk. That's  not gonna happen. If this were anywhere close to being junk it would have been packed and sent back already.
So guys I have to say , in conclusion, the Raceroom Home Simulator Gameseat RR 1000 (Come on raceroom, what exactly is the name of this thing?) is an outstanding racing seat at hundreds more. At the current $369 mark it's absolutely the best deal on a solid rig on the net. Did I mention FREE SHIPPING?!?!
UPDATE The "good foot" that Raceroom promise arrived. I replaced the reversed thread foot for the good one and all is good. It may have arrived earlier as I haven't checked my mail in a few days.
Leave a Comment
You must be logged in to post a comment.