Gamescom: Assetto Corsa Hands-On
One of the stands we were looking forward to see on Gamescom 2012 was the Assetto Corsa stand. After having seen a series of impressive screenshots over the last couple of months we were finally about put our hands on the wheel and see how the images meet with physics and sounds.
Graphics
Kunos shared a stand with Acer and Fanatec, so we got a chance to try Assetto Corsa with Fanatecs Club Sport wheels and pedals. Having taken place in the simulator a first look at the screen showed us that what we were about to experience was still pre-alpha material. It might as well have late beta material because it looked slick. The screenshots we saw earlier never lied. Assetto Corsa looks as good as we were shown.
Physics
Time to fire up those engines! We took place in the BMW Z4 GT3 for some laps around Monza. We were never disappointed. From the moment the throttle was first floored the car felt instinctively good. It was the most natural sim racing experience we've had so far. It appears that anyone with sense of driving or racing a car can get in and drive laps without crashing off everywhere. The car gave a nice direct response to my steering input and I never had the feeling I was driving on ice when I floored the throttle or the brakes, even on Pro Driver level. Bram tested the limits and got out of a corner with heavy oversteer. After catching it he noted that it was the first time a sim had not backfired his correction manoeuvres, which would usually send him to the wall in the opposite direction. Just an example of how this sim is different from what we're used to.
This is not to say that the car or this game is easy to master. On the contrary, it's easy to drive, but hard to master, because as soon as I started to push it for faster lap times, braking late, clipping curbs and slamming the throttle, more forces joined the fray. The more input you give the car, the more feedback it produces and the closer you get to making mistakes. Eventually I found myself fighting to keep the car straight under hard braking and felt the car starting to break away as I hit the throttle too hard. You can get within a couple of seconds range from a fast laptime relatively easy, but to get those last seconds and tenths out of it, you'll need a lot more work. We're in for the challenge.
Sounds
The thing that least impressed Bram and me were the sounds. The BMW did have a nice whizling sound coming from its engine, but we weren't exactly blown away by that. Nor did the tyres seem to produce much noise as we put them to the limit, though we were told they turned that sound down a bit. The devs admitted the sounds were still lagging behind, but promised improvement were being made. We're looking forward to hear about that.
Other Features
The final feature that drew our attention was that the simulators were remotely controlled form a tablet. From a distance the tracks and cars were selected and I was loaded into them. We never pressed a button. It was all done for us from a tablet.
Assetto Corsa is going to be a game with high customisability. Drivers can move around parts of their interface with a click of the mouse and race and A.I settings can be adjusted in detail. The game is open to modders too with the possiblity to add their own interfaces, cars, tracks and features to the game.
The first impression from the game Assetto Corsa exceeded my expections. From what I've seen and tried it looks and feels good. Actually, I can't wait to sit behind my own PC and get my hands on it. Unfortunately we still have to go through alpha and beta stages. Imagine the possibilities…
Nice detail to post was that we ran into Bsimracing.com owner Wim Bries and had a long talk about our hobby. We also hooked up with fellow RaceDepartment member Adam Mocarski who shot the following video of AC in action.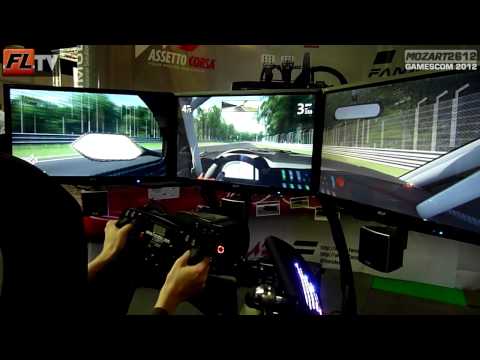 Yoeri Gijsen & Bram Hengeveld
For more on Assetto Corsa visit our forums where you can find more news, discussions, mods & online racing league announcements.
Leave a Comment
You must be logged in to post a comment.