FSR World Championship: Controversial Victory by Bono Huis
The tight and twisty Hungaroring is the scene for round 7 of the Championship and with a seemingly endless series of corners, this is one of the most difficult circuits on which to overtake, with the run down into turn one of the only opportunities. This makes qualifying and pit strategy of the utmost importance for the Hungarian Grand Prix, and the drivers will need to negotiate 70 laps of the bumpy and tricky circuit.
Defending Champion Bono Huis took his 4th pole position in a row just edging out his main rival Morgan Morand. Jeffrey Rietveld, yet another driver to leave the ATR team, achieved another amazing result for 3rd place on the grid with his new team GT Omega Racing. Team mate Rasmus Tali also achieved a strong result for 4th, ahead of Precision Motorsport's reserve driver Jack Keithley. Ash Racing produced two WC debutants in the form of Jernej Simoncic and Ville Leppälä with both drivers surprisingly making it to 6th and 7th respectively. Yannick Lapchin continued his strong form to start in 8th, ahead of Twister veteran Fredrik Nillson in 9th, and Blair Disley made it to Q2 for the first time this season.
Raino Rõõm was unable to crack the top ten settling for 11th, as was Patrick de Wit, only able to qualify in 12th. Eros Mascuilli has now been promoted to ATR's main team, and he beat out John-Eric Saxén for 13th. Jim Parisis could only achieve the 15th fastest time, and sadly NetRex were unable to impress despite Hungary being the home Grand Prix for both of their drivers, with Gergo Báldi in 16th and Peter Varga in 17th.
To the race start and with all the front runners getting a more or less equal launch off the line it was Jack Keithley who got the best start, cruising passed Tali down into turn 1. Huis took the inside line and defended his position  while Keithley tried an inside move on Rietveld. Simoncic managed to outbrake Tali for 5th, while every one else cleanly made it around the opening corner. Rietveld did his best to fend off Keithley, but the Precision driver remained alongside and took the 3rd position through turn 3. Up the hill into the tricky left hander, 9th placed Nilsson lost control on the exit and Raino Rõõm had nowhere to go slamming into the Swede, sending debris everywhere. Several other drivers were unable to avoid the carnage with Chatzipantelis hitting Rõõm's stricken car and causing Gosbee to skip across the grass with a damaged sidepod. It was of course game over for both Nilsson and Rõõm.
 Into the chicane Lapchin touched the grass under braking and De Wit jumped on the Frenchman, moving up into 8th, and meanwhile Varga and Parisis fought furiously over 13th. Just behind Stefan Kanitz's day ended early with the German spinning and then stalling after just half a lap. Lap 2 and Gergo Báldi managed to get around Eros Mascuilli for 11th place, and just ahead Rasmus Tali made a bad mistake running wide through turn 3, swiping the barriers, and rejoining the track down in 10th position. Running wide into the final turn Jack Keithley came under pressure from Jeffrey Rietveld, and the GT Omega driver used the draft and made the pass into the opening corner.
 Blair Disley was struggling to maintain his 9th place, losing out first to Rasmus Tali, and then Gergo Báldi with the Hungarian making a bold pass through turn 4. Tali then continued his recovery, chasing down and passing Yannick Lapchin around the outside of turn 2. Things soon went sour for debutant Ville Leppälä as he made a slight mistake through turn 4, and with Patrick de Wit caught by surprise the two collided sending Leppälä helplessly off the track, where the Finn sadly stalled his engine.
At the front, it was once again a two horse race with both Bono Huis and Morgan Morand leagues ahead of the rest of the field, but on lap 6 Morand was suddenly struck by a strange technical issue and the GhostSpeed car lost all drive scraping against the barriers. Morand suddenly regained control just as he was passed by Rietveld, but the Frenchman's chances of a win had taken a severe blow. Yannick Lapchin then also suffered a bizarre technical problem, losing drive and being rear-ended by Gero Báldi. Lapchin's race ended in the barriers, while Báldi lost his front wing with long drive back to pitlane.
Lap 9 and Rasmus Tali continued his recovery, taking Patrick de Wit into the opening corner for 6th, and meanwhile Peter Varga moved up into 8th passing Eros Mascilli through turn 2. With the Hungaroring producing severe tire wear, it wasn't a surprise to see many drivers pitting early on in the race. The pitlane became heavily congested on lap 10, with De Wit and Keithley narrowly avoiding a collision. Morgan Morand had crucially jumped ahead of Jeffrey Rietveld to get back into 2nd place, and De Wit lost substantial time repairing damage from his earlier collision with Leppälä. Sebastiano Filosa's debut sadly came to an abrupt end when he dropped the car and collided hard with the barriers, prompting the Italian to retire from the race.
At the second stint, Bono Huis was leading the Grand Prix comfortably by nearly 10 seconds from Morgan Morand. Rietveld was in 3rd, ahead of Keithley in 4th and Simoncic in 5th. Rasmus Tali was now back up into 6th, and Peter Varga's early stop had worked wonders, jumping the Hungarian up into 7th, with Jim Parisis hot on heels in 8th. The second set stops saw Parisis nearly stall his engine, and further ahead Rasmus Tali put in the fast laps when it counted, managing to just beat Simoncic out of pitlane to take over 5th place.
 With drivers varying from 4 to 6 stop strategies, the true race order became rather muddled. Patrick de Wit was in a virtual 9th place, struggling with damage sustained earlier, as he desperately fended off Martin Gosbee. However a small mistake from Gosbee allowed Muhammed Patel alongside, and the Twister driver made a daring pass around the outside of turn 4 to take 10th position. Blair Disley was just behind in 12th, with Eros Mascuilli in 13th. At the front things were equally complicated. While Bono Huis was 6 stopping, Morgan Morand was only 5 stopping, and as the two alternated the race lead it was completely unclear who would eventuate in the top spot. Jeffrey Reitveld had managed to pull out a gap for a comfortable 3rd position, and Jack Keithley was running in 4th, just ahead of Rasmus Tali and Jernej Simoncic. But it all came undone for the Precision reserve driver on lap 37, when Keithley touched the grass into turn 8 and the Englishman span off the track, beaching his car in the gravel trap.
Meanwhile in the battle for what was now 6th, Jim Parisis managed to leap ahead of Peter Varga beating the Hungarian out of pitlane. However with traffic in the form of Mascuilli and Disley, Parisis was able to increase his lead, quickly disposing of Mascuilli, while Varga was held up after a failed passing attempt into the chicane. With Parisis disappearing into the distance ahead, Varga then made a terminal mistake, losing traction out of turn 11, and crunching his front end into the barriers.
Now up into 7th, Patrick de Wit looked like he was in a strong position, but with his damaged car the Mak-Corp engine suddenly started to struggle, and on lap 56 it finally gave up the ghost ending De Wit's race on the sidelines. Martin Gosbee then managed to leap ahead of Muhammed Patel to take what was now effectively 7th place. However it wasn't until the final stops had been made that the true order began to emerge. Mascuilli's 4 stop strategy had worked, jumping the Italian up into 7th ahead of Gosbee & Patel. Depite carrying damage from the first lap incident, John-Eric Saxén was now in 10th, chasing down and gaining on Muhammed Patel, and with just 3 laps to go, disaster struck the Twister Racing team, with Patel's rear left brake failing, causing the Briton to drop back behind both Saxen and Blair Disley.
Back at the front and as Bono Huis emerged from his final stop, he had Morgan Morand directly in his sights, and with 9 laps still remaining it was clear that there would be a fight for the race win. As Huis edged ever closer it was clear who had the faster car. On lap 65 Huis got a great drive out of the final turn and Morand darted to the inside forcing Huis to attempt an outside pass. As the pair entered the corner together, Morand drove his natural line around the corner, forcing Huis off the track. Huis immediately came back making another attempt around turn 2, but he couldn't make the move stick. Huis continued to hound Morand through the middle sector of the circuit with the pair making contact on two occasions.
Huis would get one more chance on the following lap, again with a great tow down the main straight. Morand moved to the inside of the track, and as Huis broke for the corner he tried to switch back to the inside but Morand saw it coming and kept his line tight, remaining in the top spot, which he would hold all the way to the finish line. However, being less than impressed by Morgan Morand's earlier defensive move, the stewards put the hammer down and the decision was made to penalize Morand, relegating him back into 2nd place.
This promoted Bono Huis into the race winning position, effectively taking victory number 6 for the 2012 season. Morand would have to settle for 2nd place though he made quite clear that he was very displeased with the penalty. Finishing in 3rd Jeffrey Rietveld again made a very strong impression, his great drive earning him his first podium in only his 3rd WC start.
Rasmus Tali came very close to his team mate towards the end finishing in 4th place with another solid result. Jernej Simoncic had a fantastic debut, earning an impressive 5th place in his first WC race. Jim Parisis charged up the order from 15th on the grid to claim 6th, and Martin Gosbee finished in 7th after passing Eros Mascuilli in the closing stages of the race after the ATR driver's brakes failed on the penultimate lap. John-Eric Saxén brought his damaged car home in 9th, and Blair Disley picked up the final point in 10th position.
So Bono Huis' lead continues to grow, now 67 points ahead of Morgan Morand. Rasmus Tali has now surpassed Fredrik Nilsson for 3rd, though Nilsson is only 9 points behind. The battle for 5th is still wide open, with John-Eric Saxén in a strong position, but he still has Vandoorne, De Wit, Báldi and Mikkonen just 4 points behind. Jeffrey Reitveld's podium has launched the Dutchman into the top ten, not far behind his other competitors.
Precision Motorsports have now cracked the 200 point mark and look in a very strong position to take out this years constructors trophy. Internal problems at ATR has seen multiple drivers leave the troubled team over the last couple of rounds, and they are under serious threat from GT Omega Racing, who achieved a very strong result at Hungary adding 27 points to their constructors total. The recruitment of Morgan Morand has continued to launch GhostSpeed higher up the order, with the Portuguese outfit now up into 4th position, jumping ahead of Twister, Mak-Corp, and NetRex all of whom failed to score today. Faster Than Speed and AT Racing remain in their respective positions, but Ash Racing have now moved up into 10th thanks to Simoncic's impressive debut.
The next race will be the Spanish Grand Prix and you can watch that race live as it happens at Simrace TV on the 5th of August at 4pm GMT.
Highlights video by Simon Adebisi: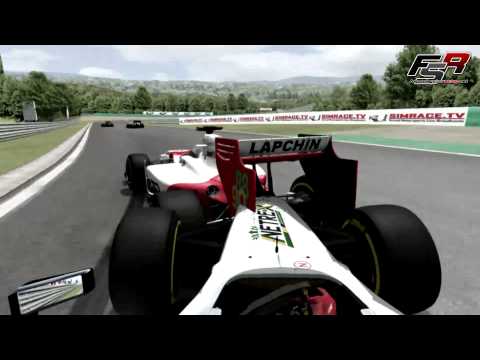 Leave a Comment
You must be logged in to post a comment.