Fanaleds Display Support for Fanatec Wheels
We are very proud to announce the latest version of Fanaleds. You might have seen or heard about Fanaleds before around Thomas' blog and/or YouTube. The Fanatec wheel owners amongst us are aware of the LED display on the wheels. However, these displays have never really been used. That's where Fanaleds comes in. Gerben Bol and Dirk Teurlings have worked on this plugin for the last few months to offer support for the Fanatec displays in multiple games. We started as a plugin only for Live for Speed but since Fanaleds 0.3 we are supporting over 10 titles (!). Please check the list below for a full overview of supported games:
Live for Speed
F1 2011 (No revled support)
DiRT2 (No revled support)
DiRT3 (No revled support)
DiRT Showdown (No revled support)
iRacing
rFactor
Game Stock Car
GTR 2
GTR Evolution
Race Injection
Race 07
STCC 2
Rigs of Rods (No revled support)
Update: Fanaleds 0.3a is released with the extra games below
Added rFactor2 support
Added SimRaceWay support
Added DiRT support
Added Race Driver GRID support
Added F1 2010 support
Added Richard Burns Rally
Fanaleds is able to show all kinds of information on your Fanatec wheel including speed, fuel and the gear you're in. But the function that we're most proud of is the Speedgear mode. This mode combines the best of the speed and gear mode. Mainly your speed is shown until you reach the max RPM. When that happens the display will indicate you have to shift up and shows your gear. Also when you manually shift up or down your current gear will be shown for a short time.
Not only does Fanaleds make your Fanatec wheel come alive but also your Clubsport pedals. You don't even need a Fanatec wheel for that. As you might know that the Clubsport pedals have a rumble on the brake pedal which simulates the effect you get when locking your wheels while braking. Everything with Fanaleds goes automatically. You only have to start the application and you're ready to go for most games. The game you're running will be monitored automatically by Fanaleds so you are not bothered changing a configuration file each time you switch to another game.
Before you try out the latest version of Fanaleds we advise you to check out the 0.3 showcase video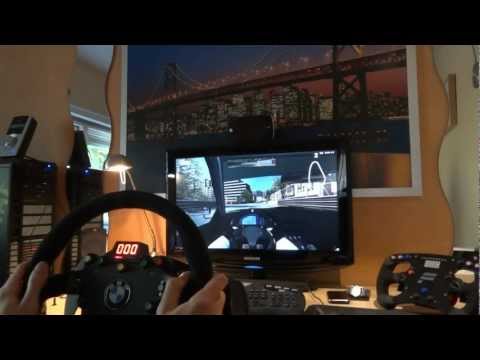 Of course we could go on and on about the nice features Fanaleds brings, but at the end of the day you have to find it out for yourself. We therefore have released a new website specifically for Fanaleds. On this website you will find the latest release, answers to your questions and an option to contact us. Feel free to visit us to try Fanaleds out for yourself!
Leave a Comment
You must be logged in to post a comment.